April 30, 2019 | Svetlanov Hall
Soloist – Daniel Lozakovich, violin (Sweden)
Conductor – Vladimir Spivakov
Tchaikovsky. Concerto for violin and orchestra in D major, Op. 35
Tchaikovsky. Valse-Scherzo for violin and orchestra in C major, Op. 34
Tchaikovsky. Meditation for violin and orchestra in D major (from "Souvenir d'un lieu cher"), Op. 42 No. 1
Rachmaninoff. Symphonic Dances, Op. 45
Closing its season at the Moscow Performing Arts Centre, the National Philharmonic Orchestra of Russia led by its Artistic Director and Principal Conductor  Vladimir Spivakov will present  one of its most acclaimed and loved programs: Tchaikovsky's Violin Concerto and  Violin Pieces with Orchestra and Rachmaninoff's Symphonic Dances. The Maestro and the Orchestra have conquered both Russian and foreign audiences with this music. For instance, the  Süddeutsche Zeitung reviewer found the NPR's performance of the Symphonic Dances at the Herculessaal in Munich in the autumn of 2018 "truly phenomenal".
The solo part in the works by Tchaikovsky will be played by the 18-year-old virtuoso Daniel Lozakovich, a  rising star of the world violin art. Daniel's engagements can  be envied by many mature performers: he tours worldwide, appearing with famous orchestras and conductors. His amazing international career started largely thanks to the support of Vladimir Spivakov, who recognized a great talent in the young violinist and made him a bursar of his Charity Foundation. It was with Vladimir Spivakov's orchestra "Moscow Virtuosi" that then a 9-year-old Daniel  debutted in a big hall.
A native of Stockholm, Daniel is coached by Eduard Wulfson in Geneva and Josef Rissin in Karlsruhe. The winner of prestigious competitions in Europe and the United States,  Daniel got  known in Russia after winning the "Nutcracker" TV Contest in Moscow. In 2016, he was the doubtless winner at the First Vladimir Spivakov Violin Competition in Ufa and soon signed an exclusive recording contract with the world's largest label Deutsche Grammophon. The famous professor Boris Kushnir, a member of the Jury at the Spivakov Competition, said about Lozakovich: "I voted for him because I liked his sound very much. I heard the tone  of rare beauty." As a reward, Daniel also received a valuable violin by the Italian master Giuseppe Carlo Oddone (late 19th century).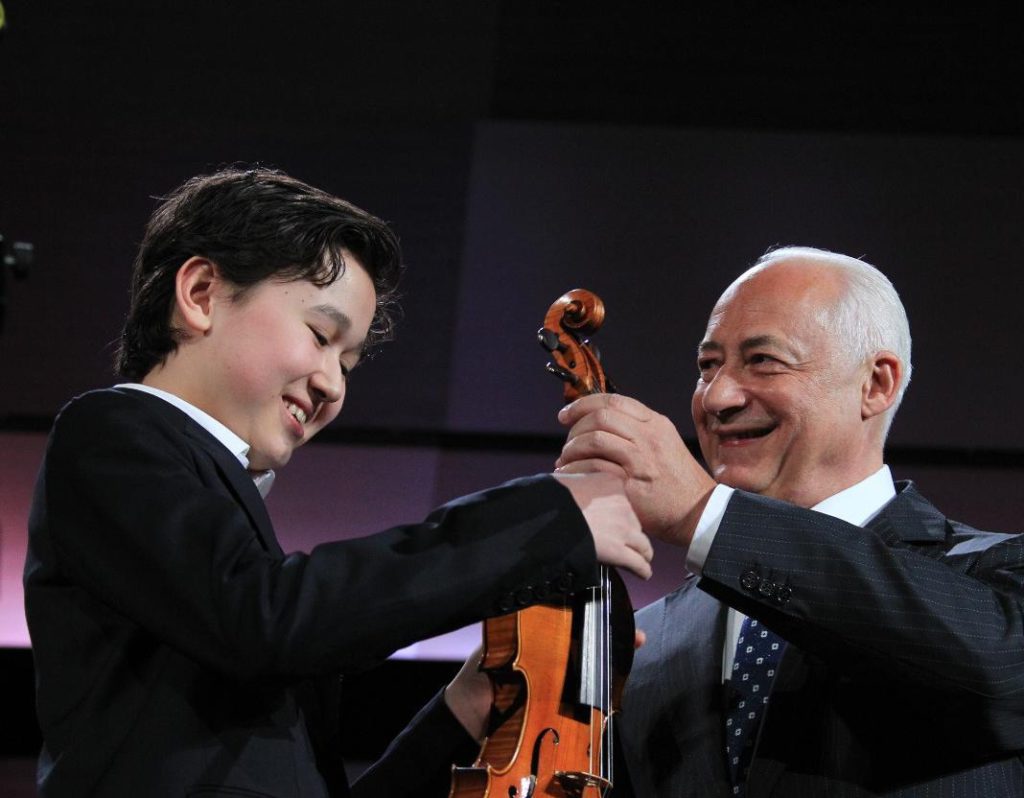 Rachmaninoff's Symphonic Dances is an opus that stands apart in Vladimir Spivakov's repertoire. "Rachmaninoff is one of my icons, - says the Maestro. - He is a planet of his own. And there are so many treasures  yet to be discovered by people." The Symphonic Dances, the composer's last major work, was written far from his homeland and manifests his deep perception of the crucial problems of human existence (the medieval Christian theme Dies irae is repeatedly recurring in the score). Spivakov considers this masterpiece to be a "spiritual testament" of the author and sees a special message in performing it: "In our troubled age, one must  think about love and the Last Judgement".